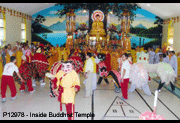 Canada's immigration policy evolved between 1885 and 1976. It now reflects standard international human rights expectations and is responsive to humanitarian concerns. It is not perfect as the 'right of landing' fee established in 1995 has raised the ire of critics as the fee is too exorbitant, based on third world standards of living. Nevertheless, Canada continues to be one of the most desirable destination immigrants choose. Canada's historic relationship with China and the Chinese open economy policy of the early 1990s, has allowed professionals and highly educated Chinese to expand their experience in Western countries. This relationship with its bilateral agreements not only benefits our two countries, but lays the ground work for future diplomacy.
The CBC reported in its story 'China in Depth', that in the past 50 years more than half of Chinese immigrants have been white collar workers and since 1984 most have been middle class rather than upper class. Statistics indicate there is a tendency to settle in the suburbs of major cities such as Toronto and Vancouver. In 1996 the national census recorded the Chinese population at more than 920,000 with 46 per cent in Ontario and 34 per cent in British Columbia. The 2001 census reported most recent arrivals have been highly educated and upwardly mobile. The largest geographic group of new Chinese immigrants came from mainland China and spoke Mandarin; a position previously held by Hong Kong Chinese immigrants. The census, which took into account the most recent wave of immigration to Windsor in 1991, placed Windsor's Chinese population at over five thousand people. It stated, of those who came to Windsor, nearly half were from mainland China.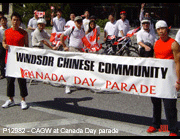 The political emergence of a middle class evolved as the Chinese population grew. Chinese leadership has been readily apparent in the development of their cultural and business enterprises. But by late the 1950s, records indicate Chinese Canadians took a more proactive tact as 'bridge builders'. Their leadership spanned not only the political and professional arenas, but all facets of Canadian life. Douglas Jung represented Vancouver as the first Chinese Canadian Member of Parliament in 1957. He introduced a private members bill which put in place an immigration amnesty program which served 12,000 people through 1973.
David Lam emigrated from Hong Kong in 1967 and was appointed Lieutenant Governor General of British Columbia in 1988. He served for six years during a particularly crucial time and played a pivotal role in representing Chinese Canadians. With the British announcement of Hong Kong's inevitable return to mainland China, came fear and uncertainty for many Hong Kong Chinese. Vancouver saw a great influx of Chinese immigration through the 1980s.
Bob Wong became the first Chinese Canadian cabinet minister when he served in the Ontario Liberal government in the late 1980s and Vivienne Poy became the first Chinese Canadian Senator in 1998. In her first speech to the Senate she recalled the tensions that followed the arrival of a large number of Chinese in a suburb of Toronto.
Journalist Adrienne Clarkson was appointed Governor General of Canada in 1999 and raised the profile of the Governor General's office throughout her tenure and served her country with honour and vision.
Historically, Chinese Canadians have brought distinction to Canada through their citizenship, entrepreneurial spirit and professionalism. This isn't anything new as Chinese Canadians have been steadfast in their patience and leadership for decades. The 'head tax' and its redress has been an on going and unresolved issue for generations of Chinese Canadians; Susan Eng represented 4,000 people, as co-chair of the Ontario Coalition of Head Tax Payers and their Families. Communities throughout Canada have had their own redress champions and Windsor's Chinese community found theirs in Philip Liang. He served as the spokesperson for the Windsor Head Tax Redress Group and has been a strong community advocate for Chinese rights.
Just days after the Italian community had received an apology from the Canadian government an agreement was brokered and announced by the National Congress of Chinese Canadians and the Multiculturalism Minister Raymond Chan on November 17, 2005. Opposition was expressed within the Chinese community. The Chinese Canadian National Council emerged as the major pressure group spearheading the campaign seeking redress from Ottawa. Its focus was twofold: first, addressing the injustices created by the Chinese Exclusion Act of 1923 and; secondly, seeking a comprehensive settlement which included an apology for the 'Head Tax'. The long standing issue was resolved when the Chinese Canadian National Council and fourteen other Chinese Canadian groups negotiated the settlement package announced by the government on June 22, 2006.
Tradition has served and transformed Chinese Canadian communities for over 100 years and now has helped renew and redefine Canada as a maturing nation. The month of May was announced as Asian Heritage Month by Senator Vivienne Poy. Its purpose was to acknowledge the contributions made by Asians to Canada and create a sense of belonging for new Asian Canadians. The inspiration for this initiative was drawn from the U.S. experience, where celebrating Asian Heritage has fallen in the month of May since the 1970s.
In the past, language and cultural practices defined nations and people. Today, Canadians may be of a particular ancestry, but when asked, "What nationality are you?" The response is commonly, "I'm Canadian". A group of younger Chinese Canadians discuss, in the video journal a changing identity, how they reconcile their heritage with their sense of being Canadian. For their parent's and grandparent's generation, the loss of language and cultural practices is thoughtfully debated within the community; as the arrival of new Asian Canadians is a constant reminder of their heritage.
The city of Windsor is third after Vancouver and Toronto in attracting immigrants. Windsor's cultural diversity reflects the Canadian mosaic model and its Chinese community is a rich part of that history. Celebrating its culture and traditions enriches the lives of every Windsorite. The virtual museum, Rising Dragon: Chinese Canadians in Windsor, shares the lives of those who have arrived since 1991; for many their history is still in the making. Click on Local Chinese People to discover their stories.